New Music
by: Shimrit

Shalom and Blessings to all of you! I'm trying out a new format for our newsletters, please let me know what you think!

I've continued to write new music, I have several songs "In the works!" The song I shared in our August newsletter "You Are My Strength" has been honed and arranged. I'm getting prepared to begin recording it. I shared the lyrics last time, but we have new people signed up so I'll share it here too.

One of my new songs in the works is about healing. We live in a rough and tumble world in every sense, and we all get our share of hurts, sorrows, and illness. My songs are born out of my need to get both my sorrows and my victories out, it's a communion for me with God, and with the body of Messiah. My new songs are more like musical prayers. Another is about my desire to reign in my thoughts, and discipline my mind. To bring every though into captivity to the glory of Adonai.

Here is "You Are My Strength". It's in waltz time.

You are my strength, You are my shield
When I am weak, Your strength is revealed
You are my hope, All others be still
You are my King I will bow to Your will
You are my King, I will bow Ooohhh, oh, oh ,oh
I will serve no other God 
Turn my eyes from the distractions of this world
Give me the strength, to let go
And put it all, All in Your loving hands


Help Us Bring Kerah and Andre' Home For Our Summer Tour
by: Shimrit Hanes
We are gearing up for our summer tour! We have new songs to share with you all, and we are rested and ready to be "on the road again!"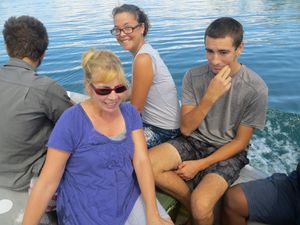 We need to finance getting Kerah and Andre' back stateside, so that we can be a "group" instead of a duet. Mark and I don't mind being a duet, we have done it before, and we can do it again, but we miss what Kerah adds to our music, her harmonies and songs, are irreplaceable.  Also, with Mark and I getting up in age (60! can you believe it!), it's getting tougher to haul in all the equipment, set-up is so much easier with Andre's help. He's been such a blessing to us and our ministry. 
More than any of this though, we just really miss them both. Kerah and I have developed together musically in ministry, and the thought of her not being there feels like I'd be missing an arm! Zemer Levav just isn't Zemer Levav without Kerah and Andre'!
Kerah is really excited to share with you all, and she'll sing a worship song in Haitian Creole! We need a total of 800 dollars, and they want to come back mid April, so we have time to rehearse and prepare.
Please donate at: www.zemerlevav.org/giving
Meet Ralph Seta!
by: Shimrit Hanes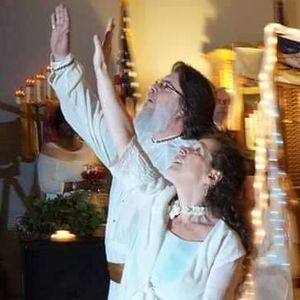 This past month has been very difficult for me. I lost my best friend in a terrible accident. Between waves of grief, preparing musically for tour, and getting the land ready for minimum upkeep for my daughter and son-in-law (Baruch and Adrielle) I have found myself overwhelmed.  I realized that booking this tour was just one thing too many. So, I prayed and asked God, "What should I do?" honestly, I was at a point where I was feeling so badly, that I was wondering if I even had the heart to go on tour this year. The Lord comforted me and said, "Call Ralph." 
When we were with New Hope Management company for a season, Ralph Seta was one of the booking agents that booked for us, and was also one of the best. I had been friends with his wife Mindy through the development of their ministry "Messianic Dance Camps International". So we had some very positive history. I called and explained my situation and my feelings. He said he would be glad to help. For the next three months Ralph will be booking our summer tour, as he books for Mindy and his ministry. Thank you so much Ralph! Thank you Abba Father! 
Ralph can be reached at (775) 283-8080
Email him at: mindyseta@hotmail.com


From A Land of Devastation, To a Land of Shalom and Blessing
by: Shimrit Hanes
Things have continued to move forward here on the land Mark purchased with part of his inheritance. This was done with much prayer on both our parts. God has blessed, though it has been a lot of work. My health has improved with the outdoor labor, cutting crowded trees and brush, clearing trash, pruning and planting. So many of Messiahs parables have become so real to me as I have worked. My faith has increased as I have exercised it, believing God to provide what is needed.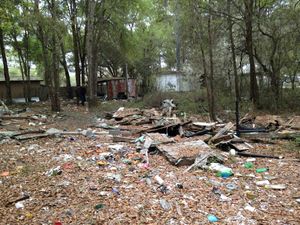 ("Before" photo of the land. We have cleaned all this up!)
We now have pure fresh water, instead of hot and cold running rust! Son-in-law Baruch found us a really good filtration system, that back flushes once a week to clean itself out, it's truly marvelous to have good water! (Oh the things we take for granted!) Mark did the installation, he is so amazing! I was just kvelling over my clean laundry today, it's so good to be able to wash clothes. I have been so thankful to my Abba God for so many things I always took for granted in the past!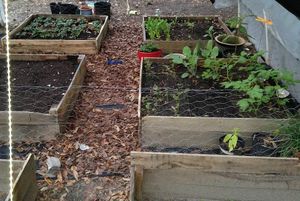 We should be getting our septic in by the end of next week. That's another big hurdle that God has eased us over. We can not build on this land until we have working septic, so things were at a standstill with the studio and house. The garden however is going great guns! I've been teaching jewelry classes 4-5 evenings a month and making around 400 dollars, which has helped with groceries, the electric bill, and enabled me to buy plants, seeds, and soil amendments. Mark provided for the fruit trees!
 I've planted 2 fig trees, 2 Israeli apple trees (Yay), 2 peach trees, and a nectarine, 2 olive trees, 5 blackberries, 8 blueberries, 2 avocados, two pomegranates, an elderberry, and a pear tree (I feel like singing "And a partridge in a pear tree" here!). I still have to plant the two persimmon trees, but then I'll be finished for this year. 
We also have potatoes, tomatoes, peppers, carrots, spinach, romaine lettuce, broccoli, rutabagas, sweet peas, radishes, kale, and many herbs. That's my happy stuff right now! We are healing this land, and planting it. It's very spiritual actually, I can't help but think of "tikun olam" (healing the world) and how God cleans and heals us, and plants good seeds in our lives. I feel we are preparing, and being prepared. Our vision and prayer, is that this will be a land of blessing,  rest, and provision, not only for ourselves, but for others also.


Haiti Update
by: Kerah Joy Oliveira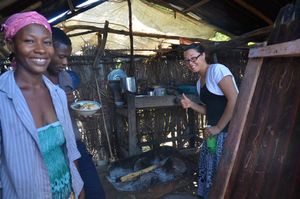 Mesi AMPIL, todah raba!
I'd like to thank you all for praying for us!We've had a rather full and… exciting couple of months, and a lot has happened even in the space of the last two weeks. I can't even begin to write everything out, but I'll do my best to tell the recent news while keeping this short.
Because of a miscommunication, (my father in-law) Peter's ankle got caught in the anchor line early last week as he was moving the Aleph Tav. He received about a five inch by an inch and a half rope burn on a section of his ankle. Other than having a little less skin, he sustained no other injuries! Several medical professionals have taken a look at it as it's healed, and have been amazed at how well it is healing! God is so good! Lisa (my mother in-law) discovered that she is allergic to mango and cashew tree sap. They are all actually in the same family as poison sumac, and poison ivy! Who knew?! She is treating the areas very successfully and she remains in good spirits, even if she's a little itchy.
Also earlier this week, we discovered that Andre had developed an eye infection; we were able to find medicine at a pharmacy 40 minutes (by water taxi) away. I am taking the absolute best care of him that I can keeping our pillow cases clean, and keeping track of his medicine administering schedule. His eyes seem to be doing much better with this continued care, and we fully expect him to be back on track in the next couple of days.
Between all of this, my father in-law Peter has been invited to speak at a couple more churches in the area, teaching about the Hebrew roots of the scriptures. We have also spent a lot of time with our Kreyol teacher Fedrique. He is one of a handful of people who actually ask questions, and will seek Peter out to learn about the feasts. Once he learned that I like to sing, he began to teach me worship songs in Kreyol!
The fruit of this friendship has been a sweet blessing to the whole family.
We may not see what effect these church services have on the people, but the blessing of seeing Fedrique's eyes light up with revelation as he listens and discusses the significance of the Biblical holidays is enough! 
Lisa, Peter, and Gabriel are traveling up to Cap Haitian to visit our Messianic orphanage Beth Chesed this weekend, and will be there ten days! Andre and I are here to serve, and have agreed to stay behind to keep a watchful eye on the boats. We are excited to see pictures and videos of the kids when they return!
As some of you may know, Andre and Gabriel started a web show on Youtube they call "Udders of the Island" (a play on the words "utter" as in "to utter" and the name of the island "Ille a Vache" "Island of the Cow!") They release an episode each week for the general amusement of family, friends, and any one interested in seeing the bright side of Haiti, and a whole lot of silliness!
We had dinner with a man who just happens to be an executive producer working for one of the largest TV stations in Haiti. He has seen their web show, and loved the fact that Andre and Gabe showed Haiti, and the Haitian people, in a positive, non-victim like light. A mutual friend contacted Andre on his behalf yesterday about the possibility of expanding the show by sending Andre and Gabe to different places all over Haiti, and airing the show on Haitian national television. Andre will call and talk to some one official about what the station is expecting from them. If their demands are reasonable, Andre will move forward with working out some kind of deal.
We feel that this could be an open door to be a light to Haiti in a way, and on a platform, that none of us ever expected! We ask that you pray for Andre to have clear discernment during his dealings with the producer and whom ever else is involved. But above all, we ask you to pray that Hashem's will be done!
Please also continue prayers for physical well being, and what ever else you were praying before, please don't stop! It's causing an upheaval, and I know in my spirit that it's a GOOD upheaval!